It's Monday evening in Stuttgart, Germany. At 19:00, ten-year-old Sreenandita Bhattacharya sits at her piano and opens Telegram on her laptop. She accesses the Besser Academy private Telegram group and joins her daily music lesson through video chat. Soon, Sreenandita joyfully says hello to her teacher, Teja Rallapalli, and to the other students attending class from their homes, some from the USA, others from the UK.
After many years of studying music with Teja, Sreenandita can now play Mozart, Beethoven, and Bach with great skill and clear confidence. This young and talented girl, like the more than 60 students at the Besser Academy, has grown her skills and love for music thanks to Teja's revolutionary approach to education and business management.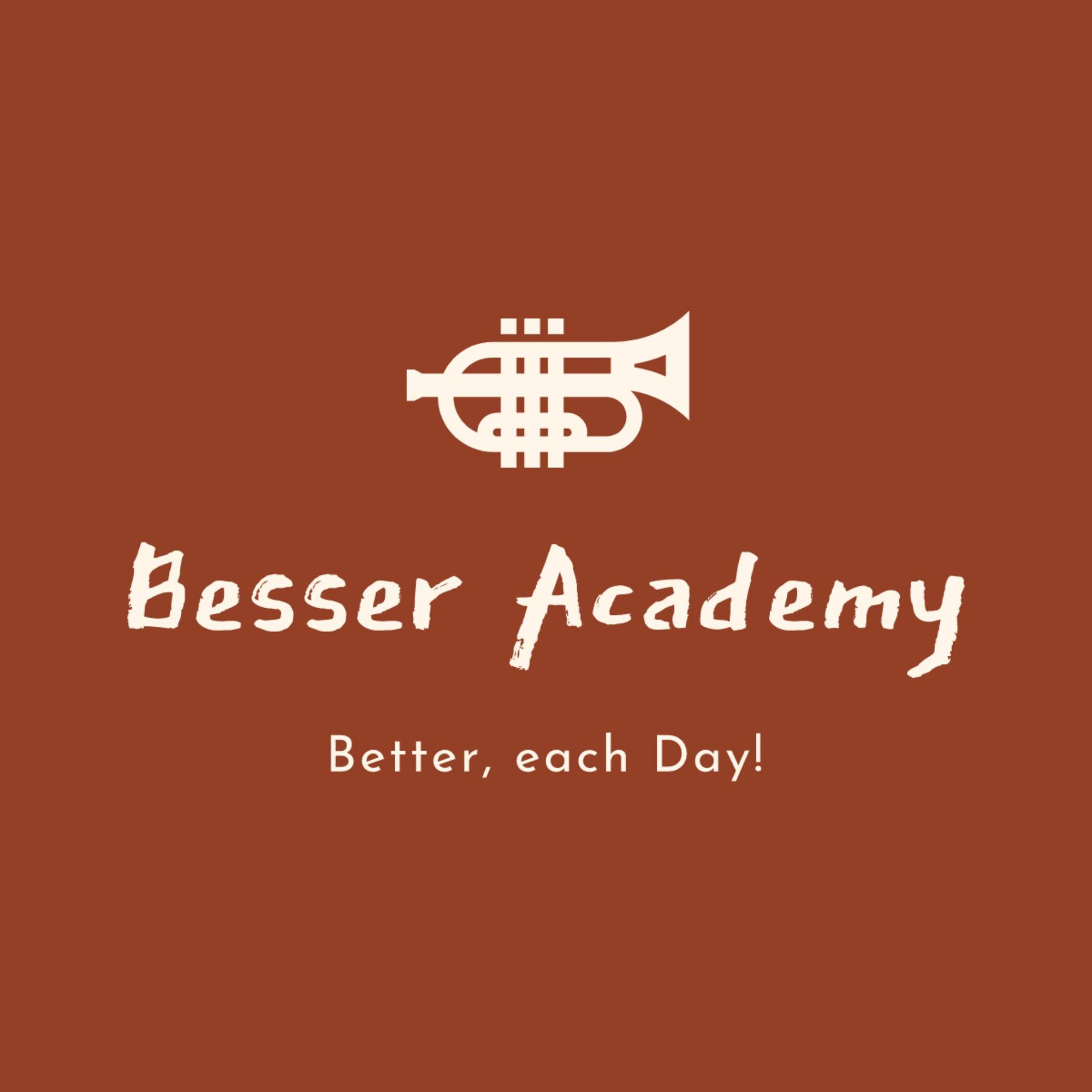 This is a story of success. About how a visionary entrepreneur made a business from his passion, and how his passion has helped many kids around the world to develop their skills and love for music.
The Besser Academy
Though trained as a programmer and business developer, Teja, a musician at heart, sees himself "as a skill-set amplifier, something like a coach or a learning companion". For Teja, the Besser Academy is much more than just a music academy; "it's a school that teaches consistency by being passionate and happy about something". This philosophy has proven to be a great approach for teaching music, and much more. This is evident as the school has recently expanded beyond music, now offering Spanish classes too, with outstanding results.
"... there are things that we're passionate about and that we use as fuel for developing particular skills."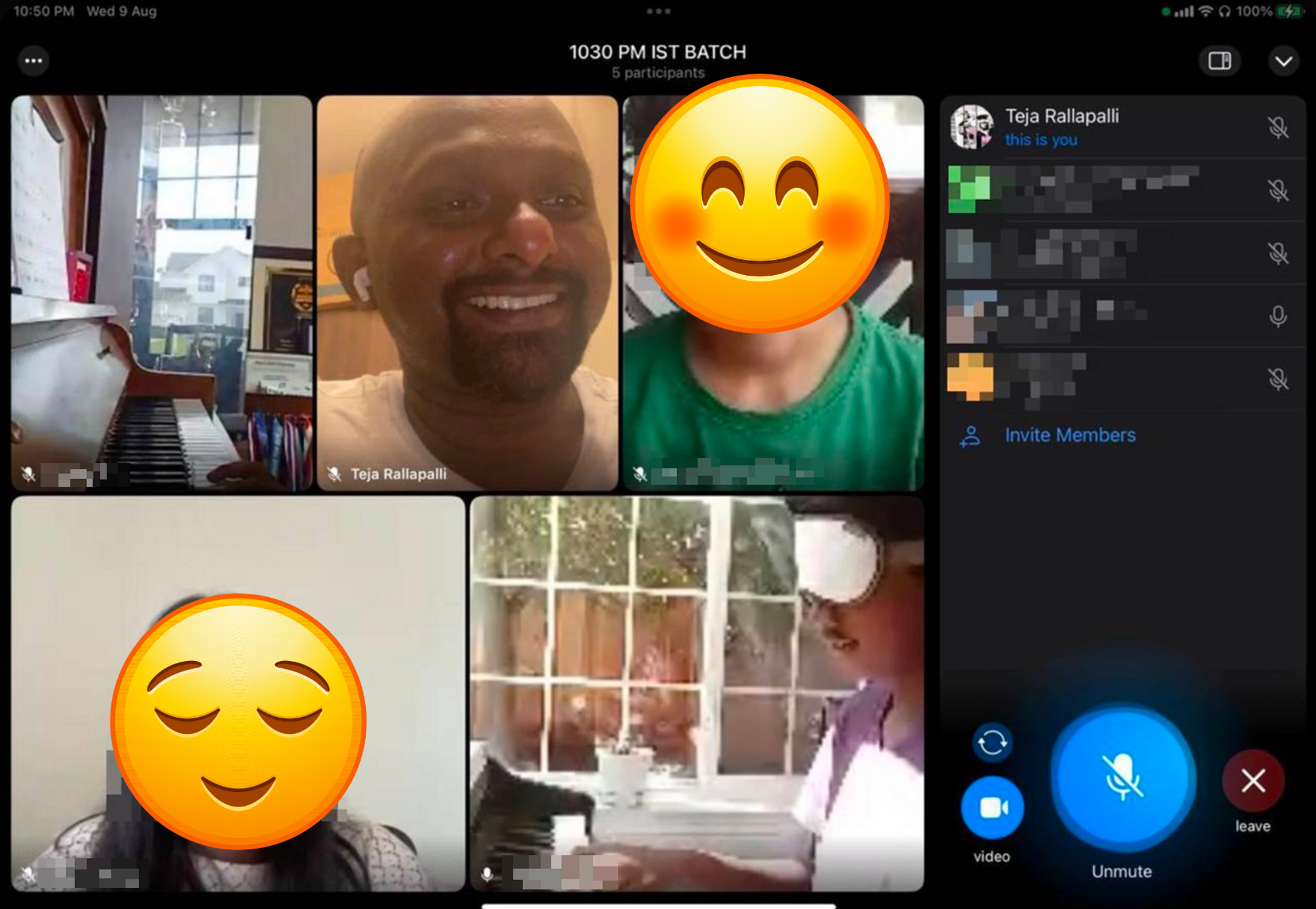 Teja believes that "not everything we do in life makes us happy, but there are things that we're passionate about and that we use as fuel for developing particular skills". He knew this very well, as he has been learning and practicing music for almost 20 years, but always struggled to read music notations. Teja's inspiration to start the academy came when a child asked him how to read music. This led him to a realization about his life's purpose and the inception of Besser Academy. "My eureka moment! Not only about how to read music easily — but also about what I wanted to be in life!"
After he realized in 2018 that he wanted to become a learning companion, Teja decided to start the Besser Academy. At first, the academy's unique approach was to make learning enjoyable and stress-free. Half-hour classes are conducted daily at the same hours through Telegram, and students are advised not to practice after class, reducing pressure on them, and possible stress on their families.
This innovative approach to teaching consistency through discipline, in a relaxed and cheerful environment, has proven to be effective as the Besser Academy keeps growing and its students gain awards and recognition. But, underlying Teja's successful educational techniques, is the technological foundation of his business.
Telegram for Education
In May 2022, Teja searched for the best online teaching platforms and discovered Telegram's potential for education. Since then, he's been able to reach way farther and manage his payments and subscriptions in a much easier and more efficient way than before. Telegram turned out to be a versatile tool, serving as a powerful platform for learning. As a user-friendly, secure, accessible, mobile-first, and cloud-based online teaching platform, the app has become the Besser Academy's mobile headquarters now.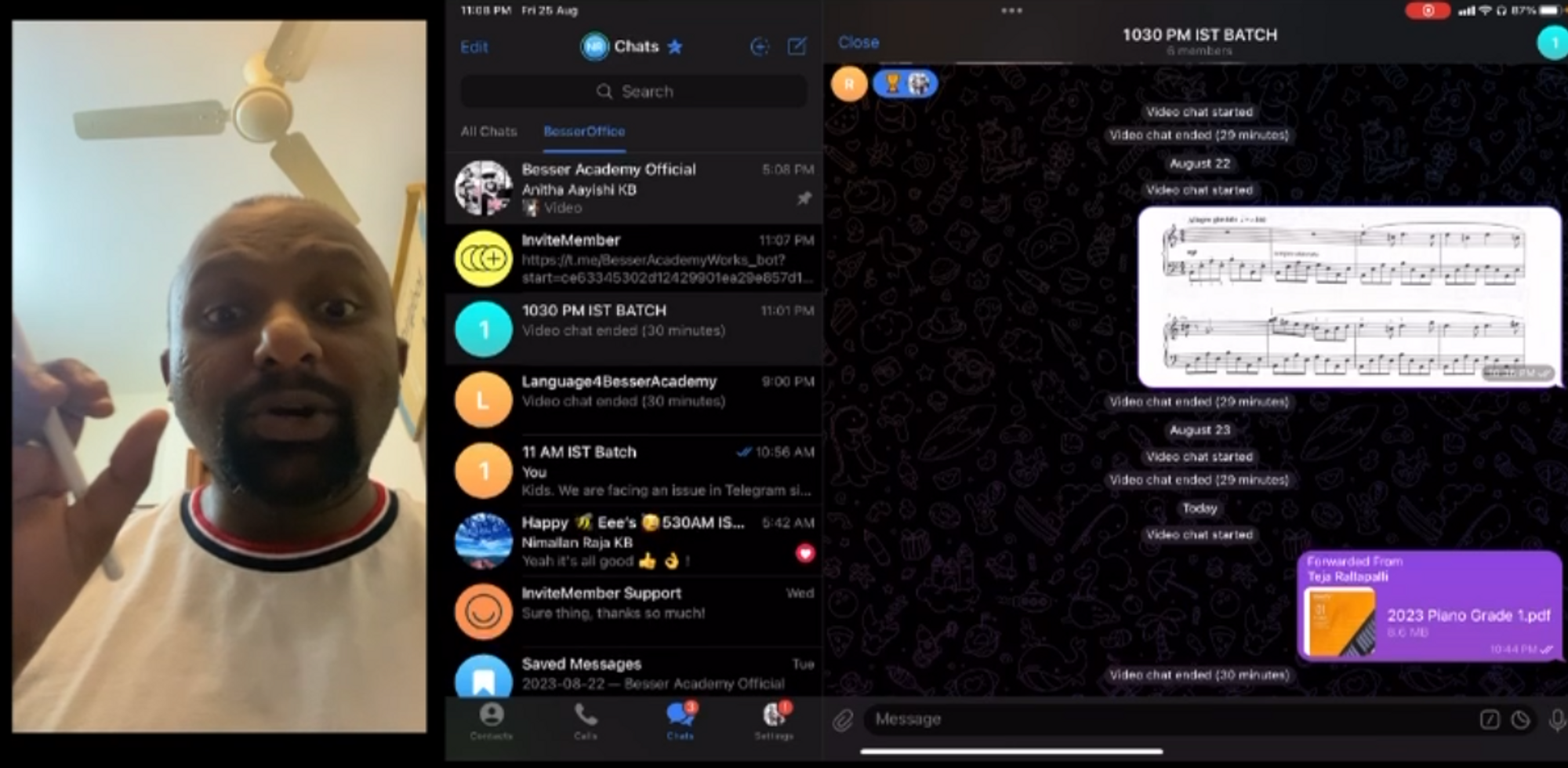 Not only have Telegram's groups and channels proven to be excellent tools for education, but with InviteMember he's also been able to bypass tedious management and financial tasks. Although the academy students can be from all around the world, subscription plans can be priced in Indian Rupees (or any other supported currency). And Teja can receive his INR payments online through Razorpay, or by any other method using access codes.
The Besser Academy has its own branded Telegram bot called BesserAcademyWorks_bot. Students' parents can launch this bot through a link (like this one: t.me/BesserAcademyWorks_bot)–select the subscription plan they want for their kids, pay for it, and talk to their children's teacher, all in the same bot, from their own devices.
Since Teja implemented these tools into his business, the Besser Academy has been growing and improving greatly, allowing him to focus on his true passion. Today, students from Germany, the US, the UK, Canada, Australia, Indonesia, and India, tune in daily to Teja's revolutionary method.
"It came out so well, and he helped me learn the entire piece in less than 5 days. I ended up winning the first prize for it at school!"
Furthermore, being a Telegram-based business hasn't been a limitation for developing true bonds between the teacher and his students. As Pranav Sunil recalls, "Once, at my school, there was a music competition, and the theme was patriotism. I already knew I had the support of the best of the best, so I approached sir to help me with it. It came out so well, and he helped me learn the entire piece in less than 5 days. I ended up winning the first prize for it at school!"
Expanding Horizons
The undeniable success of the Besser Academy on Telegram shows the online teaching platforms' potential, but also that creating a sustainable business with your knowledge, skills, and phone only, is possible. Furthermore, the scalability that InviteMember brings from its Free Tier subscription plan, enables businesses like Teja's to diversify their offerings from the start.
Speaking to such scalability, the Besser Academy has recently added Spanish lessons, exemplifying how easily other subjects can be added to the curriculum. The capacity to create as many subscription plans as you want, and to add as many groups and channels as you can handle -for free-, brings immense potential to any subscription-based business with no launching costs.
Starting a new project, focused on Spanish lessons alone, for example, can be set up in minutes and be easily managed from even a single mobile device. Wherever Telegram can be used, Teja can manage and provide his services to anyone around the world. And as the student base grows, and payment management becomes more financially complex, the bot's features would ensure that the academy can handle increased demand efficiently while Teja could decide how to manage his own growth.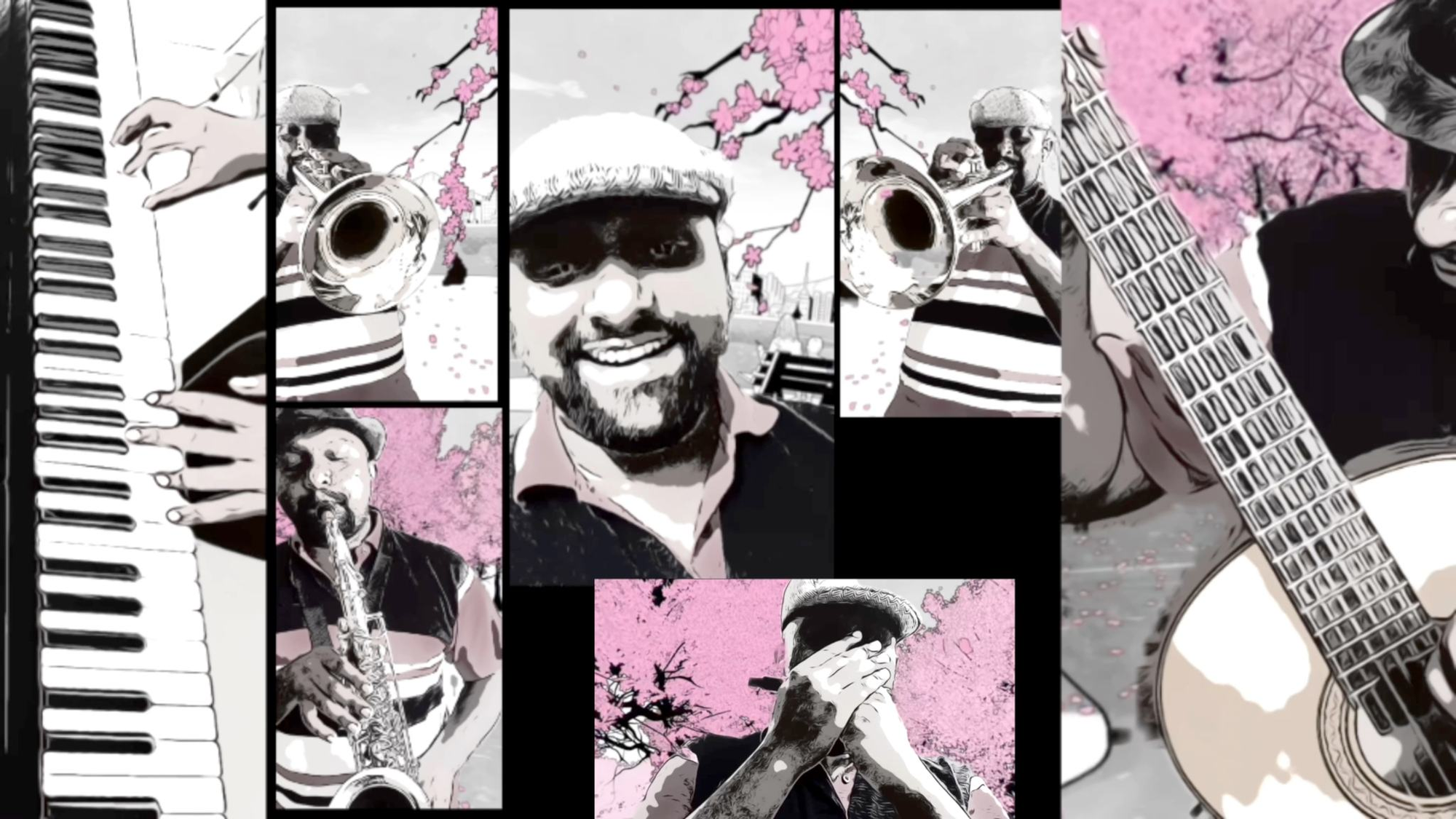 Thanks to Telegram and InviteMember subscription bots, the complicated tasks of establishing a membership business infrastructure have been settled. Now, word of mouth about Teja's successful teaching method, combined with other marketing efforts, could further boost the Besser Academy's growth.
Furthermore, subscription bots come with features like segmented broadcasts, free trials, and SUCH's built-in support, among many others. Additionally, with Telegram's continuously expanding list of features, shaping up to be the ultimate communication platform—the future of the Besser Academy looks promising.
Final Thoughts
This case is one of many success stories of free-spirited entrepreneurs who took the challenge of living from their passion and accomplished it. Like Teja, thousands of educators, coaches, content creators, and many other individuals, are becoming financially independent doing what they love the most.
If you want to learn more about Teja and the Besser Academy, you can visit their YouTube channel, Facebook page, or membership bot to subscribe right away!
And if you want to start your own subscription-based business in Telegram for free, and upgrade as you grow—start the InviteMemberBot in Telegram or check our website!