In an era where online communication dominates our social and professional interactions, messaging apps have emerged as integral tools in our daily lives. One such app that has gained significant popularity over the years is Telegram. Its primary aim is to prioritize user privacy and speed, making it a favorite among its users.
This article aims to guide you through the essentials of using Telegram, unraveling its multitude of features from the basic to the most advanced. Whether you're a new user who's just downloaded the app or a long-time user looking to maximize Telegram's potential, this comprehensive guide will help you navigate the platform more effectively and efficiently.
Getting Started with Telegram
To kickstart your Telegram journey, the first thing you'll need to do is download and install the app. It's available on various platforms, including Android, iOS, Windows, macOS, and Linux, allowing you to stay connected on whichever device you prefer.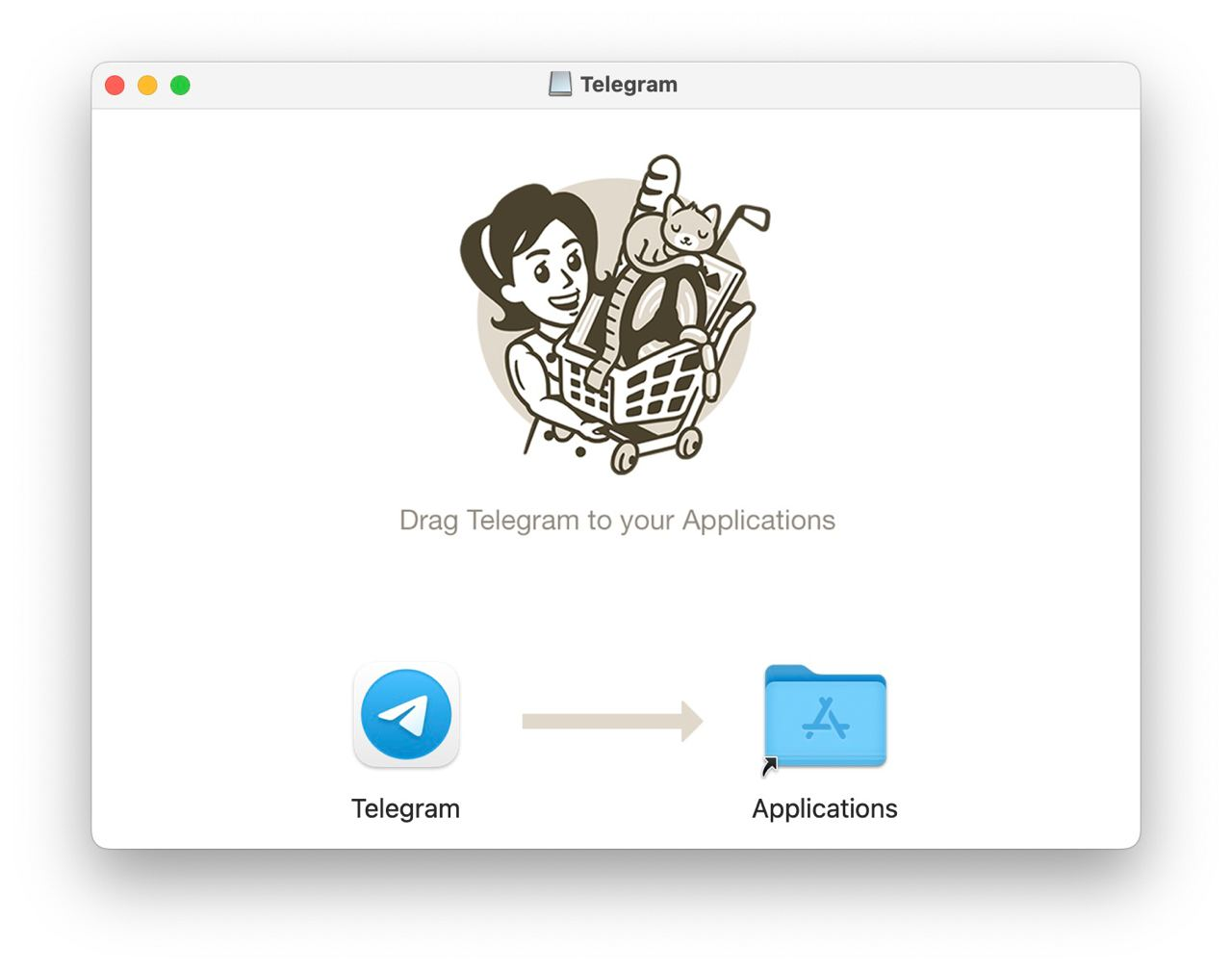 Once you've installed the app, you'll need to create an account. Here's how:
Open Telegram and tap on 'Start Messaging'.
You will be prompted to enter your phone number. After entering your number, tap on 'Next'.
A confirmation code will be sent to your phone number via SMS. Enter this code when prompted.
Next, you'll be asked to enter your name and optionally add a profile picture. This information will be visible to your Telegram contacts.
With your account now set up, you can begin adding contacts and starting chats. Telegram will automatically add contacts from your phone who are also using Telegram. To manually add a contact, tap on the 'New Contact' button, fill in their information, and tap on 'Done'.
Now that your Telegram account is set up and ready, it's time to dive deeper into the wealth of features this messaging app offers.
Chat Features, Tools, and Latest Enhancements
When it comes to communication, Telegram offers a plethora of tools to make your experience engaging, efficient, and enjoyable. From simple text messages to video calls and beyond, let's delve into the richness of Telegram's chat features, tools, and the latest enhancements.
Text Messages Unique Features: Telegram allows sending editable text messages to individual contacts or groups. You can use rich text formatting that includes monospaced and a fantastic "spoiler" feature that lets you hide your text to be unveiled by the recipient.
Image and GIF Messaging: Telegram takes image and GIF sharing to a new level. When sending photos, you can use Telegram's built-in image editor to enhance your visuals with masks, drawings, and text. With GIFs, you can create your own super easily by sending looped short videos with no sound.
Group Chats and Channels: On Telegram, you can create groups accommodating up to 200,000 members, perfect for large communities, businesses, or even friendly banter. For broadcasting to a larger audience, Telegram channels serve as an ideal platform, with no limit on the number of subscribers that can be reached.
Discussion Groups: A feature that enhances the dynamics of Telegram channels is the ability to create associated discussion groups. This is a space for channel members to interact with each other while focusing on the channel's content.
Topics in Groups: Within groups, you can further organize conversations by creating topics. This allows for more streamlined discussions and makes it easier for group members to follow or participate in conversations that interest them.
Chat Folders: You can create, categorize, and share folders with unique access links. As the folder organizer, you can set up different access levels, controlling which chats, groups, and channels in the folder are visible to which invitees.
Sending Files and Videos: Sharing on Telegram is incredibly easy and versatile. You can send files of any type, photos, and videos. The file size limit is 2 GB for regular users, and Telegram Premium users enjoy an increased limit of up to 4 GB.
Emoji, Stickers, and GIFs: To make your chats more engaging and expressive, Telegram offers a wide collection of emojis, stickers, and GIFs. There's an emoticon or sticker for every mood and occasion. You can even create your own custom emoji or sticker packs.
Message Reactions: Telegram's message reactions allow you to respond to messages with an animated emoji. Premium users can have infinite reactions to any message.
Built-in Translation Feature: The built-in translation feature allows for seamless communication with users worldwide, breaking down language barriers.
Voice Chats: The last Voice Chats version brings a new dimension to audio communication on Telegram. It now supports unlimited participants, different roles (speakers and listeners), and a raise hand mechanic. This makes it a great platform for live talks, virtual meetings, or even social audio rooms.
Animated and customizable Backgrounds: Telegram isn't just about functionality; it's about aesthetics too. Enjoy dynamic animated backgrounds or customize your own for a delightful experience.
Live Streaming and Video Playback Speed Control: Telegram's live-streaming feature allows you to broadcast live videos to your group chats or channels. Coupled with the video playback speed control, you can watch videos at your own pace, making content consumption truly personalized.
With these features and enhancements, Telegram continues to improve and refine the user experience, ensuring that it remains one of the leading communication apps in the market.
Telegram Premium
Telegram Premium is a subscription service that offers enhanced features for a more robust and rewarding user experience. This service builds upon the already comprehensive set of tools and features that Telegram provides, taking your messaging and communication experience a notch higher.
Its Benefits
Telegram Premium comes with a growing range of benefits designed to provide a smoother and more advanced user experience:
4 GB Uploads: Send files up to 4 GB each, perfect for large videos or audio files.
Faster Downloads: Access your cloud storage and download files at the fastest possible speed.
Doubled Limits: Enjoy increased limits for channels, chat folders, accounts, pinned chats, favorite stickers, and more.
Voice-to-Text: Conveniently convert voice messages into text.
Unique Stickers: Send full-screen animated stickers that are updated monthly by Telegram artists.
Unique Reactions: Use over 10 new emoji reactions to express your feelings.
Chat Management: Use advanced tools to organize your chat list and archive and mute new chats automatically.
Animated Profile Pictures: Show off your profile with animated profile videos visible throughout the app.
Premium Badges: Flaunt a special Premium badge that appears next to your name, showing your support for Telegram.
Premium App Icons: Customize your Home Screen with new premium icons.
No Ads: Enjoy an ad-free experience in large, public channels.
How to Subscribe to Telegram Premium
Begin by opening your Telegram app. Once you're in, tap on the menu icon (three horizontal lines) typically located in the top-left corner of the screen, and then select 'Settings' from the dropdown list.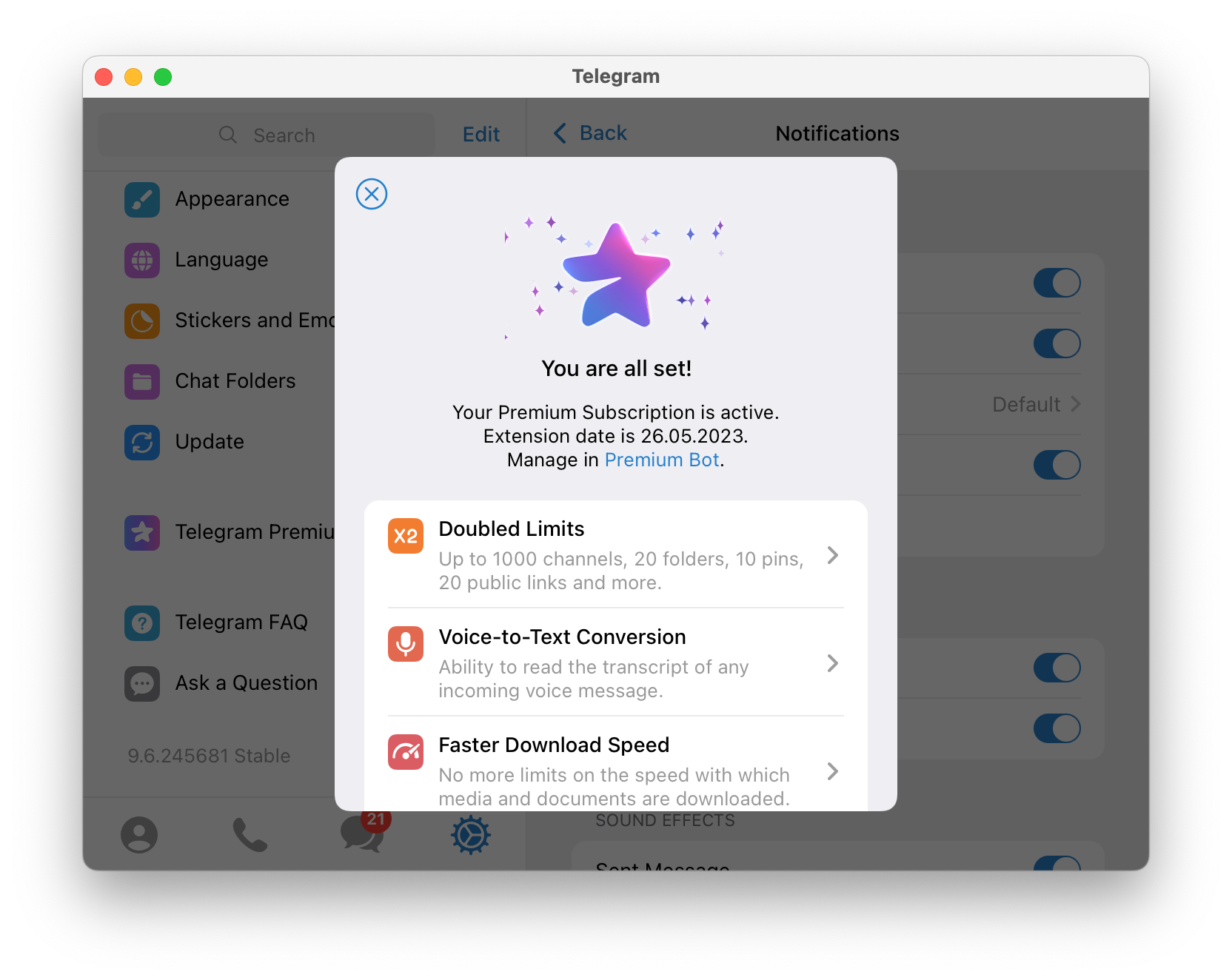 In the Settings menu, you'll see an option labeled 'Telegram Premium'. Select this to move to the subscription page. Here, you'll be given the choice of different subscription periods. Select the one that best suits your preference and needs.
Once you've made your choice, follow the prompts to complete the payment process. After your payment is confirmed, you'll be all set to enjoy the benefits of Telegram Premium!
How to Manage Your Telegram Premium Subscription
Just like subscribing, managing your Telegram Premium subscription begins in the 'Settings' menu. From there, select the 'Telegram Premium' option. Premium costs $3.99 per month, or $23.99 per year, this is not only very affordable, but it also contributes a lot to Telegram development.
In this section, you'll find options to manage your subscription. If you wish, you can cancel your subscription here. Don't worry if you decide to cancel – your premium benefits will remain active until the end of your current billing cycle.
By following these simple steps, you can easily manage your Telegram Premium subscription and make the most of the enhanced features and benefits that come with it!
Exclusive Telegram Premium Features
Telegram Premium comes with exclusive features tailored to provide a superior user experience. As mentioned earlier, the ad-free experience, extended file sharing limit, and additional cloud storage are some of the key benefits. But that's not all. Telegram is constantly working on introducing new features and improvements to make the premium experience even more worthwhile, and premium.
Telegram Premium, therefore, not only enhances your existing Telegram experience but also opens the door to new features and improvements, ensuring that you're always at the forefront of what Telegram has to offer.
Privacy and Security Features
Telegram places a high emphasis on user privacy and security, providing a suite of features designed to keep your communications safe and private. Let's explore these aspects:
End-to-End Encryption and Secret Chats: Telegram employs end-to-end encryption for its secret chats, an optional feature that ensures only you and the intended recipient can read the messages. This means that not even Telegram can access these messages. Additionally, you can send self-destructable media with a timer option, letting you decide how long the files should exist before they disappear.
Two-Step Verification and Other Security Settings: To add an extra layer of security to your account, Telegram provides a two-step verification feature. This requires you to enter not just your password, but also a separate code sent to your email when logging in from a new device. This helps to protect your account even if someone manages to obtain your password. Telegram also offers the ability to set up a recovery email and manage active sessions, allowing you to terminate any session if you suspect unauthorized access.
Privacy Options for Profile Pictures, Last Seen, and More: Telegram gives you control over who can see your personal information. You can choose who sees your profile picture and even hide your 'last seen' status from certain people or everyone if you prefer. You can also decide who can call you, who can add you to groups and channels, and who can see your phone number.
In an era where privacy and security are of utmost importance, Telegram's robust features stand as a testament to its commitment to user privacy and security.
Advanced Features and Customization
Telegram is designed to be as user-friendly as possible, but it also offers a suite of advanced features and customization options for those who want to get the most out of their messaging experience on this open platform. Let's explore these:
Using Telegram Bots for Various Tasks and Automations
Bots are one of Telegram's most powerful features. They are software applications that run automated tasks, and Telegram has integrated them into their platform to enhance functionality and automate routine tasks. You can use bots to get custom news and alerts, integrate with other services, play games, and much more. To use a bot, you simply start it or add it to your group or channel, similar to adding a new contact. The bot will then perform its function, depending on its design and purpose.
Creating and Managing Custom Themes
Telegram allows you to personalize your app's appearance with custom themes. You can change the color scheme and background of your chats to reflect your personal style or mood. To create a new theme, go to 'Settings', then 'Chat Settings', and finally 'Theme'. From there, you can choose from pre-made themes or create your own. Once you've created a theme, you can share it with others, and it will appear in your 'Chat Settings' for easy access and management.
Managing Notifications and Chat Settings
Managing your notifications effectively can make your Telegram experience much more enjoyable. Telegram offers granular control over notifications, allowing you to customize notification sounds, mute chats or groups, and even decide whether you want to receive notifications at all. These settings are accessible under 'Settings' and then 'Notifications and Sounds'.
These advanced features and customization options make Telegram not only a powerful communication tool, but also a platform that can be tailored to your individual needs and preferences.
Pro Tips and Uses
Telegram's versatility allows for a variety of use cases, from personal communication to business and community management. Master these tips and tricks to make the most of your Telegram experience:
Keyboard Shortcuts for Desktop Users
Telegram desktop has a range of keyboard shortcuts that can make navigation much more efficient. Here are some of the most useful ones:
Ctrl/Cmd + Up/Down: In-chat navigation.
Alt + Up/Down: Move to chat above/below.
Ctrl/Cmd + O: Send file.
Ctrl/Cmd + F: Search selected chat.
Ctrl/Cmd + J: Search contact.
Esc: Close chat.
Ctrl/Cmd + W: Close the Telegram window.
Ctrl/Cmd + M: Minimize the Telegram window.
Ctrl/Cmd + Shift + M: Maximize/minimize the Telegram window.
For a complete list of all the keyboard shortcuts available on Telegram Desktop, refer to this page.
Cloud-Based Storage
Telegram's cloud-based nature offers users the convenience of seamless data storage and access across multiple devices. With generous storage space, you can securely store files, media, documents, and more within Telegram's servers. This means you can access your important content on the go, whether you're using your smartphone, tablet, or computer.
One valuable feature that enhances organization and quick retrieval of important content is the ability to save messages, media, files, and other content within your personal chat, known as "Saved Messages." To save a message, simply long-press on it and choose the option to forward it to "Saved Messages." This feature acts as your own private space within Telegram, allowing you to create a centralized collection of important information, links, media, and more.
Optimize Organizational Communication
Imagine there was a company wishing to use one app as its primary communication platform. They could use Telegram to create channels to share important updates, announcements, and information with all employees, and customers, fostering a centralized communication hub.
Within group chats, they could categorize chats into topics based on projects, departments, or areas of focus, ensuring easy access to relevant conversations. To enhance collaboration, admins could issue shareable folders, containing groups, channels, or private chats, allowing seamless access to shared resources among different teams, projects, groups, or individuals.
For real-time discussions and meetings, they could make use of voice chats, enabling remote teams to connect and exchange ideas regardless of their physical locations. By utilizing these features, any organization could streamline communication, enhance collaboration, and foster an efficient, fast, and secure communication ecosystem within the organization, for free.
Engage Your Channel Community with Discussion Groups
Connecting discussion groups for your Telegram channels can be a powerful way to engage your community. It provides a platform for your subscribers to interact, share ideas, and provide valuable feedback.
By fostering discussions and encouraging active participation, the discussion group creates a sense of community among your subscribers. It allows them to connect with like-minded individuals, ask questions, and share their thoughts on topics related to your channel's content.
Provide Customer Support
In the realm of customer support, Telegram can be leveraged to provide an effective, personalized service. However, managing this on a larger scale can be challenging. Enter SUCH, a free platform designed to enhance your Telegram-based customer support.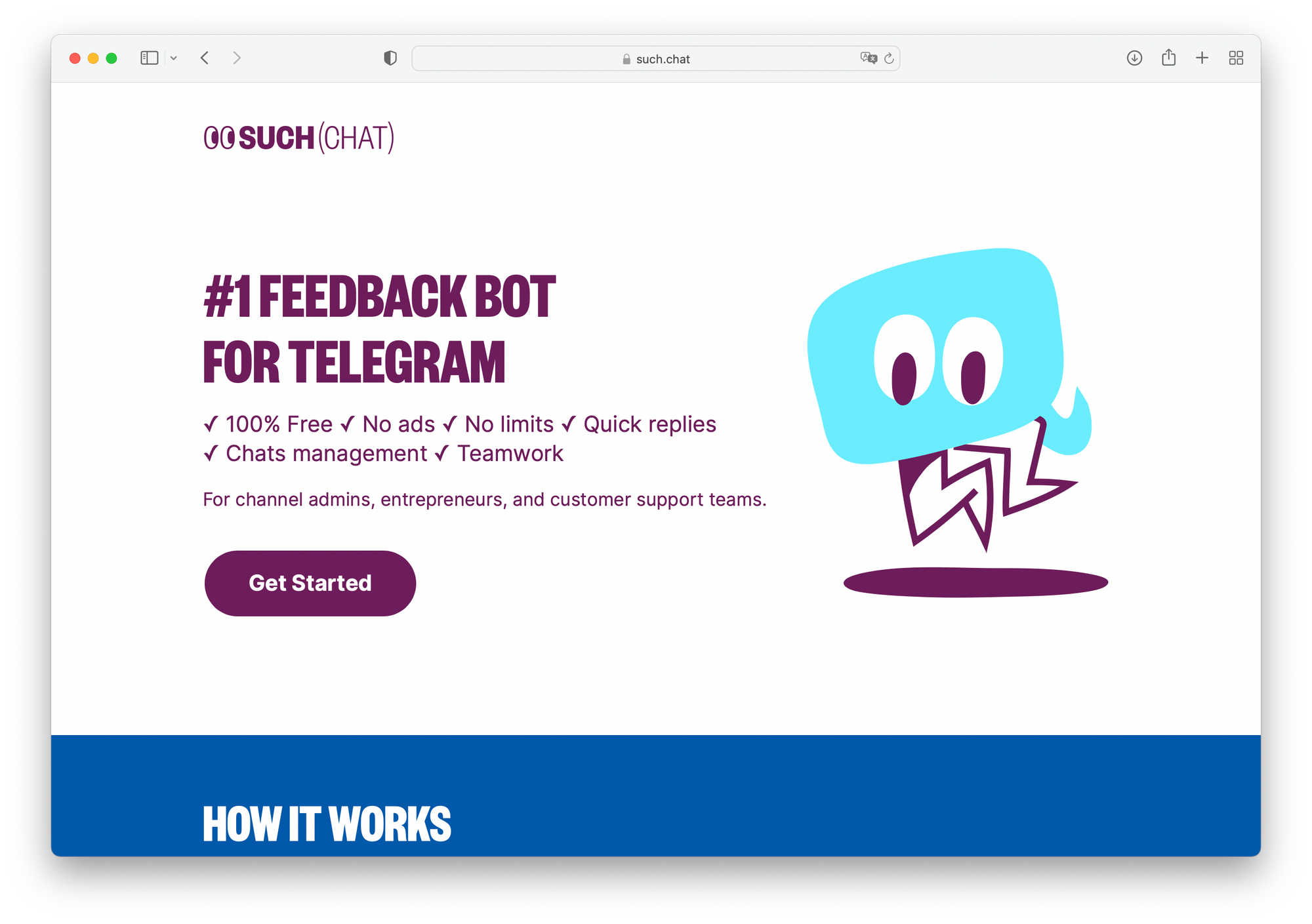 With SUCH, you can create your own customized Support Bot, and get a unified web dashboard where you can see all your customer interactions. The platform allows you to categorize your chats in open, closed, and snoozed groups, making it easier to prioritize and respond to customer queries.
Launching a Subscription-Based Business
Telegram serves as an excellent platform for launching your subscription-based business, leveraging its expansive user base and advanced features. To get started, identify a unique product or service to offer. This could be anything from exclusive digital content to curated items or language classes online. Once you've established your offering, create a Telegram group or channel for your business.
To manage subscriptions and payments, you can use InviteMember. It's a bot specially designed for Telegram that allows you to sell subscription plans for access to your private groups or channels. This way, you can monetize your passion and build a recurring revenue model.
Conclusion
In the world of instant messaging, Telegram stands tall with its extensive feature set, commitment to privacy, and flexibility, making it a platform that caters to both personal and professional needs. Whether you're looking to stay connected with loved ones, build a community, launch a business, or create a collaborative workspace, Telegram is a powerful tool that can help you achieve your goals.
Its impressive array of features, from essential chat functionalities to advanced tools like bots, makes Telegram adaptable to a myriad of uses. The introduction of Telegram Premium further enhances the experience, offering additional perks for a more sophisticated communication journey.
Despite its broad scope, Telegram remains user-friendly, making it accessible to anyone, regardless of their tech-savviness. And with its unwavering dedication to user privacy and security, you can communicate with peace of mind, knowing that your data is safe and in your control.
In a world that's becoming increasingly connected, Telegram is a shining example of how technology can bring us closer together in secure, efficient, and engaging ways. So, whether you're a new user exploring the app for the first time or a long-time user looking to make the most of Telegram's features, this guide is a stepping stone toward a richer messaging experience.